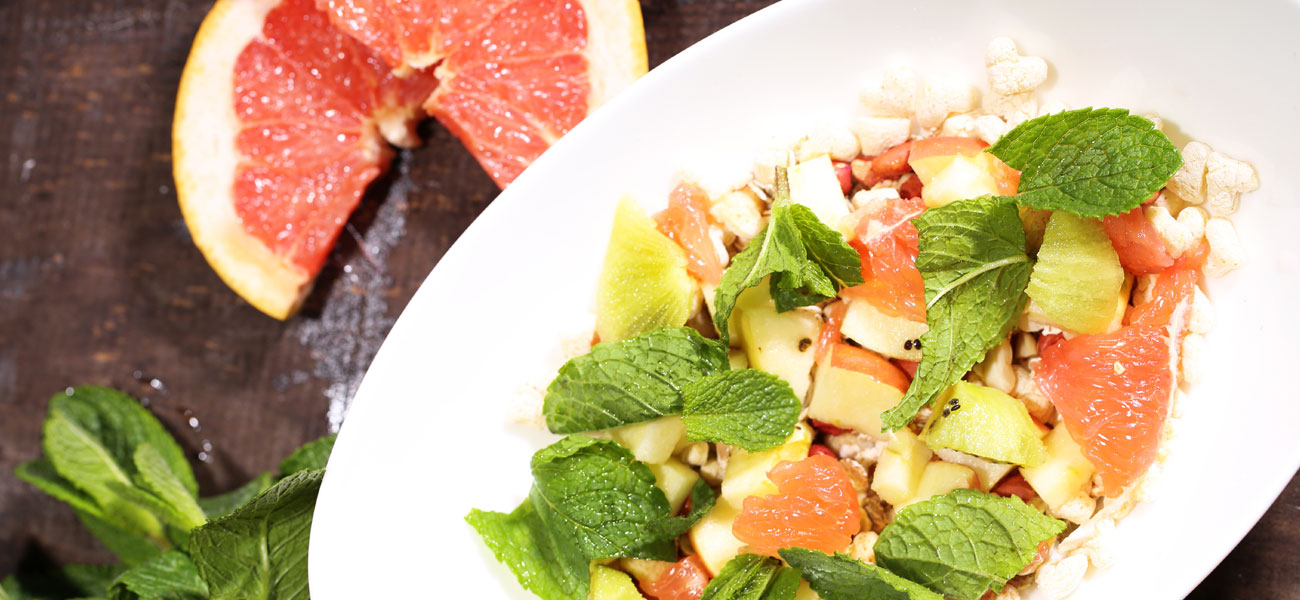 content-produce.php
Ruby Red Grapefruit Dish
Soups Salads & Sauces
Ingredients
4 medium red potatoes thinly sliced
4 medium heads Belgian endive, halved lengthwise and cored
1 tbsp maple syrup
2 tbsp water
2 to 3 tbsp extra virgin olive oil
2 medium ruby red grapefruits
¼ cup fresh Roquefort or goat cheese
½ cup walnut halves, toasted
2 tbsp extra virgin olive oil
Dressing:
1 ½ cups freshly squeezed orange juice
2 tsp brown sugar
1 tbsp lemon juice, to taste
sea salt and freshly ground white pepper
Instructions
For The Salad:
On a cookie sheet lined with parchment paper, place the sliced potatoes and drizzle with one tablespoon of the olive oil. Place the cookie sheet in the oven and roast them at 350°F until they are a little golden (about 35 minutes). When done, remove the potatoes from the oven and set cookie sheet aside. Heat remaining 2 tablespoons of olive oil in a large nonstick frying pan on medium-high heat. Add the endive halves to the pan and cook them for 1 to 2 minutes per side until seared on both sides. Add the maple syrup and cook until the endives are golden and caramelized. Reduce heat to medium-low, add water and cover. Cook the endives until fork tender, about 10 to 12 minutes. Remove from heat and set aside to cool.
For The Dressing:
Add the orange juice to a small saucepan and bring to a boil on high heat. Turn heat down to low, add the brown sugar and gently simmer, stirring occasionally. Let the juice cook until it is reduced and becomes the consistency of syrup (about 10 minutes). Don't let it reduce too far or the natural sugar will caramelize and burn. Remove from heat and set aside. When syrup has cooled, whisk in the lemon juice. Season to taste with salt and freshly ground white pepper. Set this mixture aside.
To Assemble:
Divide the roasted potatoes evenly on to 4 plates and arrange the slices on the plate. Peel the grapefruits, removing as much of the pith as possible, and cut evenly into 1/4-inch sections; you should get 5 to 6 sections from each grapefruit. Overlap grapefruit slices evenly in a circle on top of the potato slices. In a mixing bowl, drizzle about half of the orange syrup over the endives and toss gently to coat them. Place the endive on top of the grapefruit slices. Crumble some Roquefort or goat cheese on top of each plate and sprinkle the walnuts. Drizzle the remaining orange syrup over the salads and serve. Makes 4 servings.