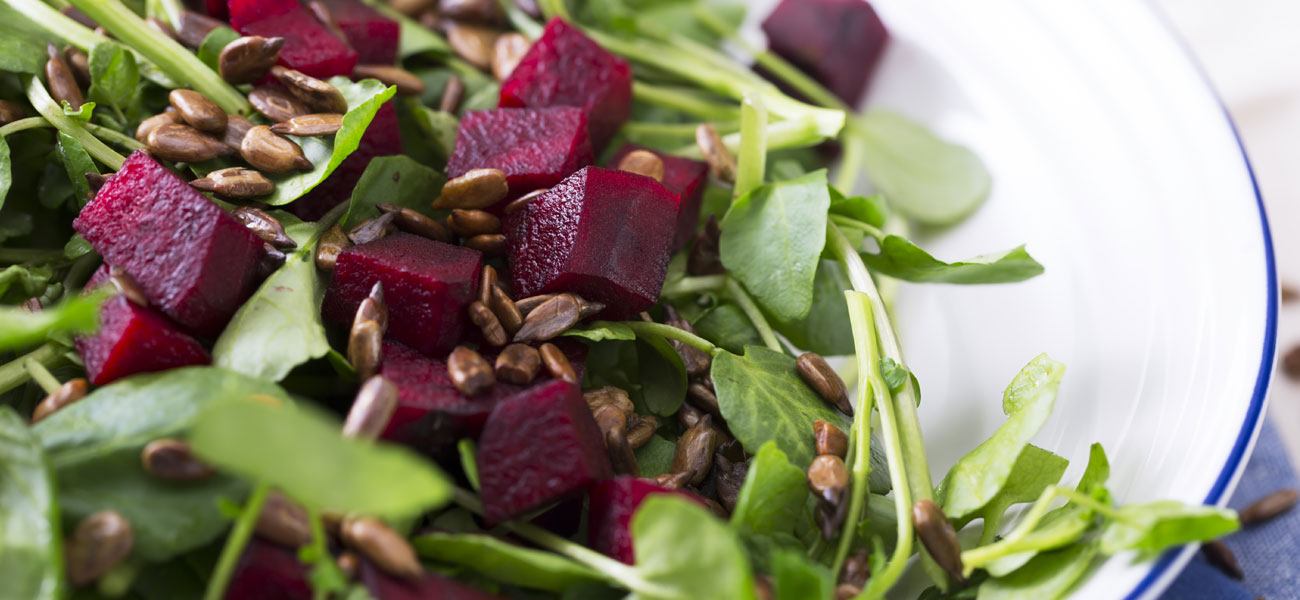 content-produce.php
Watercress & Beet Salad
Soups Salads & Sauces
Ingredients
6 unpeeled, trimmed medium sized beets (about 1 ½ pounds)
2 ripe peaches
2 bunches fresh watercress rinsed well and patted dry
1/4 cup toasted walnut pieces
1 cup low fat ricotta cheese
Dressing:
1 teaspoon finely grated orange zest
3 tablespoons freshly squeezed orange juice
3 tablespoons extra virgin olive oil
3 tablespoon apple cider or red wine vinegar
½ teaspoon Dijon mustard
½ teaspoon maple syrup or honey
sea salt and freshly ground black pepper to taste
Instructions
In small bowl, whisk together all of the ingredients for the dressing and set aside.
Wrap beets in foil and roast in the oven at 400 F for 1 to 1 ½ hours or until tender. (Alternatively, cook beets in boiling water for about 50 minutes or until tender.) Let cool slightly; rub off skins and cut into thick slices. With sharp knife cut, peel, and pit the peaches; slice peaches lengthwise and add to beets. Remove tough stems from watercress. In shallow bowl, toss watercress with half of the dressing. Toss beets and peaches with remaining dressing. In 4 separate salad bowls or salad plates, place a bit of the fresh watercress at bottom of each plate. Add the peaches and beets to each bowl, dividing evenly. Add one tablespoon of ricotta cheese to each plate or bowl and then garnish with roasted walnuts and some sprigs of fresh watercress. Makes 4 servings.