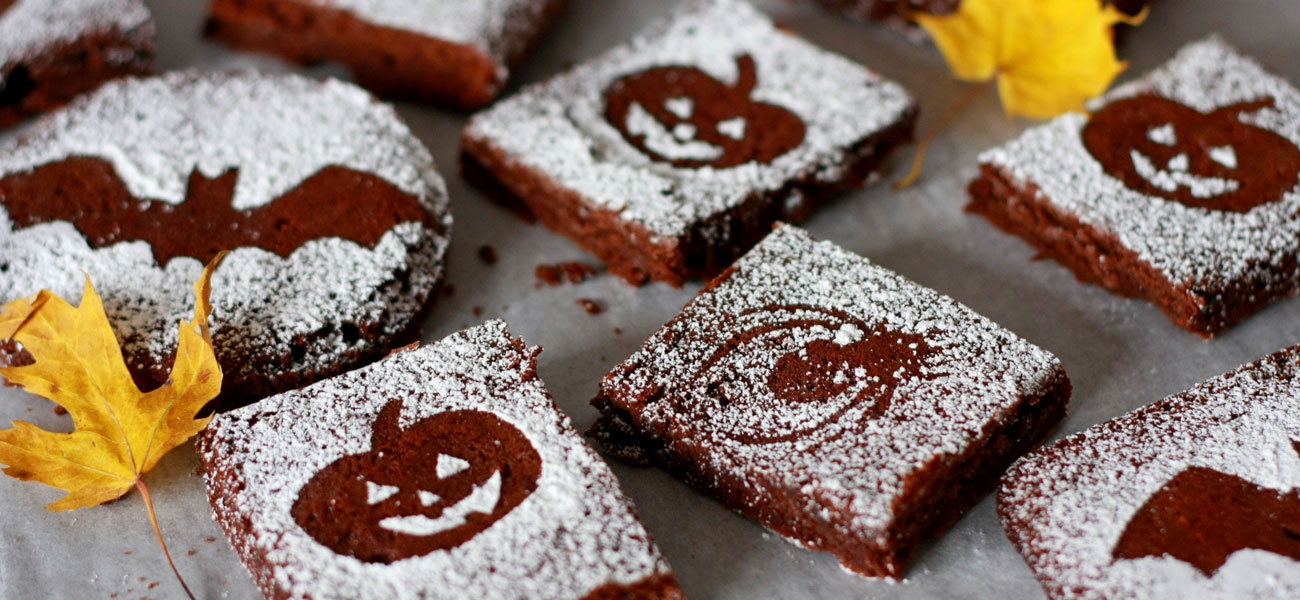 content-produce.php
Halloween Treats
Entertaining Ideas
Ingredients
Scarecrows on Sticks:
Ingredients:
7 ½ cups popcorn (you can pop your own in an air popper or use microwaveable popcorn)
3 cups cheerios breakfast cereal
½ cup chopped dried figs or dates
2 teaspoons ground cinnamon
½ cup chopped nuts (optional)
14 ounces caramel candies (soft chewy ones)
2 tablespoons butter, softened
1 to 3 tablespoons ice cold water
long cinnamon sticks or wooden popsicle sticks
Witch & Warlock Fingers
Ingredients:
canola or grape seed oil (first cold pressed)
10 chicken cutlets (chicken breasts cut into strips long enough to resemble a finger)
2 cups all-purpose flour
2 eggs
2 cups seasoned bread crumbs
1 (12 ounce) can of large pitted black olives, rinsed well and drained
ketchup
1 head of romaine lettuce, washed, dried and shredded
12 cherry tomatoes, washed and cut in half
parchment paper
Vampire Blood Shakes
Ingredients:
2 cups low fat or 1% plain yogurt
1/2 teaspoon vanilla extract
2/3 cup frozen strawberries, thawed
2/3 cup frozen raspberries, thawed
ice cubes
1 pint strawberry ice cream
Deviled Egg Eyeballs
Ingredients:
1 dozen eggs
½ cup mayonnaise
1 tablespoon prepared mustard
1 to 2 tablespoons sweet pickle relish
1 to 2 tablespoons dill relish
sea salt and freshly ground black pepper to taste
12 large pitted black olives, rinsed well under cold water
Jack O' Lantern Fruit Cups
Ingredients:
6-8 medium seedless oranges
1 cup sliced fresh strawberries
1 cup green seedless grapes cut in half
1 cup fresh blueberries
1 can pineapple chunks
3 tablespoons maple syrup
1 sharpie marker; black
Instructions
Scarecrows on Sticks
Instructions:
Combine popcorn, cereal, dried figs, cinnamon and nuts in large bowl; set aside. Place caramels, butter and water in medium saucepan and heat over medium to low heat on stove until melted. Stir often until all mixture is smooth and melted. Pour caramel mixture over popcorn mixture and toss with a buttered wooden spoon to coat. Let set until cool enough to handle. With your hands, shape mixture into 8 balls with damp hands (you can rinse your hands under cold water if mixture is too sticky – this will not make the mixture stick to your hands). Shape balls around cinnamon sticks or wooden popsicle sticks. Place balls with sticks in them on a lightly buttered waxed paper until ready to serve. Makes 8 scarecrow treats.
Witch & Warlock Fingers
Instructions:
Pre-heat oven to 350 F. Line a cookie sheet with parchment paper and set aside. Beat the eggs thoroughly in a small bowl. Place the flour and breadcrumbs in separate bowls. Slice the chicken into strips that resemble a long witch or warlock finger – skinny, long and crooked. Dip each finger first into the flour, then the egg, and finally the bread crumbs. Arrange the chicken fingers on the baking sheet and bake for approximately 12 minutes. Turn and cook for another 5 minutes or until golden brown and cooked through.
To serve, put the shredded lettuce on a plate and arrange the chicken fingers on top. Cut the olives in half, and trim so that they look like a long jagged fingernail. Pop a dab of ketchup on the end of each chicken finger and top with the olive. Arrange the cherry tomatoes around the plate and serve hot. Very gruesome, but delicious!
Vampire Blood Shakes
Instructions:
Mix yogurt, vanilla, and berries in the blender. Pour into tall glasses over ice cubes and top with a large spoonful of strawberry ice cream. Garnish with some mashed frozen raspberries. Makes 2 large vampire shakes.
Deviled Egg Eyeballs
Instructions:
Place eggs in a large pot and cover with cold water. Bring pot to a boil and cook eggs over medium heat for 12 minutes. Cover pot with a lid, reduce the heat to low and simmer for another 5 minutes. Drain water and allow eggs to cool. Peel off shells, slice eggs lengthwise into halves and remove the yolks. Arrange whites on a serving tray. In a large mixing bowl, combine cooked yolks with mayonnaise, mustard, relishes, salt and pepper and mix until smooth. Using a spoon (or a pastry bag with a large plain tip), fill egg whites with yolk mixture. Pat olives dry and cut them in half. Garnish each egg with half of a black olive. Makes 24 ghastly eyeballs.
Jack O' Lantern Fruit Cups
Instructions:
Cut the tops off of the oranges, as if it was a pumpkin you were carving. Scoop out the orange being careful not to rip the peel. Cut up the oranges to use with the fruit mixture and set aside. Using the sharpie marker, draw jack o' lantern faces on the oranges. Set them aside to dry.
In a large bowl combine the fruit, pineapple chunks and the orange pieces along with the maple syrup.
Scoop the fruit mixture into the oranges and chill for at least one hour before serving. Makes 6 to 8 Jack O'Lantern fruit cups.