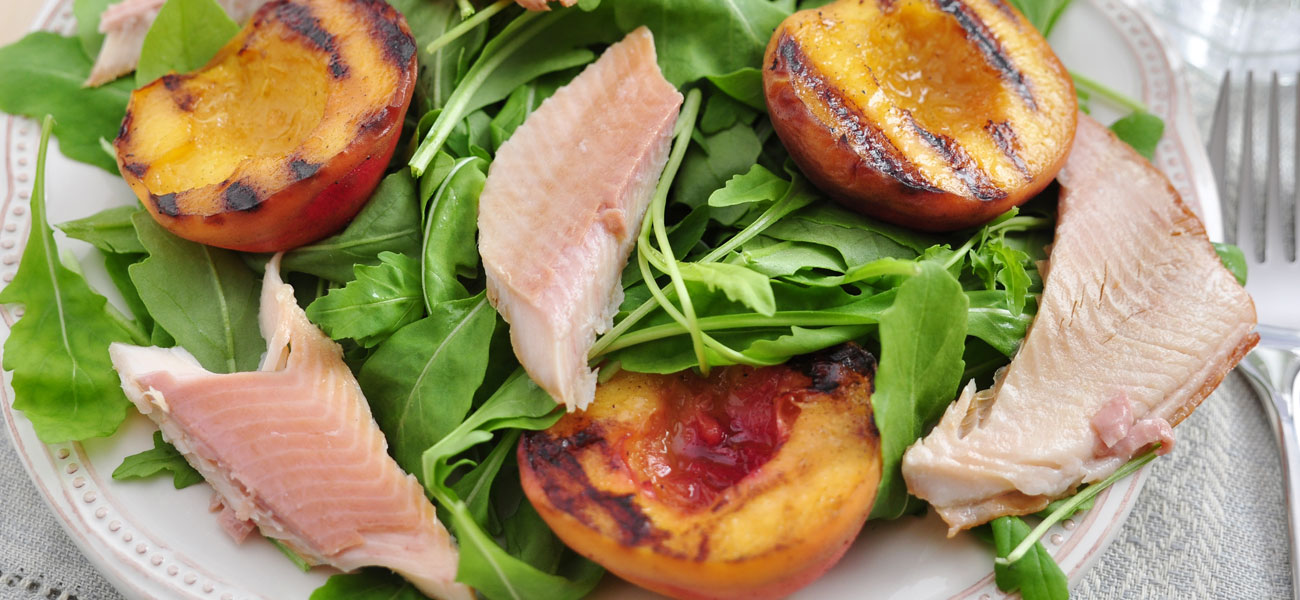 content-produce.php
BBQ Trout & Grilled Peaches
Delicious Meal Ideas
Ingredients
8 (7 ounce) boneless fillets of rainbow or steelhead trout scaled
4 Tbspns extra virgin olive oil for brushing
2 lemons
Roasted Peaches:
8 free stone peaches halved and pitted
3 small red onions peeled cut in ½ inch wedges
1 Tbspn fresh sage leaves thinly chopped
Splash of raspberry vinegar or apple cider vinegar
¾ cup freshly squeezed orange or pineapple juice
sea salt and freshly ground black pepper to taste
Instructions
Grilled Trout:
Brush both sides of the trout with olive oil and sprinkle with salt and pepper to taste. Cut the onion into ½ inch wedges keeping the onion root intact, to ensure it will hold together well on the barbeque. Drizzle olive oil on the onion and season with salt and pepper. Prepare barbeque for direct medium high heat grilling (375F) (190C). Oil grill to prevent sticking. Place fish, peaches and onions on grill to cook at the same time. Place the fish flesh side down directly on the grill and cook for 2 minutes or until nice char marks are achieved. Sprinkle salt on the skin side. Flip the fish and continue to cook for another 2-3 minutes or until the flesh of the fish starts to lose its opaque colour. Remove fish from grill and set aside. The lingering heat will continue to cook the fish slightly after it has been removed. Serve fish hot with roasted peaches.
Roasted Peaches:
Place peaches flesh side down on to the grill. Cook for 2-3 minutes until caramelized. Flip and continue to cook on the skin side for 2 minutes. Place onions on the grill and cook on each side 2-4 minutes until they are softened and nice golden char marks are achieved. Remove peaches and onions from the grill. Remove the petals of the onions from the root and mix into the peaches. Add the sage, vinegar and orange or pineapple juice to the mixture. Combine evenly and season with salt and pepper. Serve this chutney over the fish.